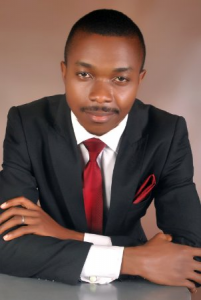 Mr. Fredrick Okeagu, is a graduate of University of Nigeria, Nsukka. He is a seasoned Human Resource professional with key interest in Performance Management, Learning & Development and Organisational Psychology. He is an Associate member of the Chartered Institute of Personnel Management (CIPM) and a licensed Human Resource practitioner (HRPL). He has over a decade experience in Human Capital Management.
Fredrick Okeagu is an Accredited Management Trainer as awarded by the National Council and Centre for Management Development (CMD). Based on his impact in training deliveries he was nominated as a faculty member for the Nigeria Employers Consultative Association, (NECA) and also for FATE Foundation, a first-class entrepreneurial development and training body in Nigeria. His interest in strategy and productivity management drove him into getting his certification as a Certified KPI professional from the world's number 1, Performance Management body, the KPI INSTITUTE of Australia. He is also certified by CQI & IRCA as an ISO 22000:2005 Lead Auditor (Quality Management System-Food Safety/Security).
Being a researcher in Human behaviour and psychology, he developed the UNVEIL Personality Instrument, a unique tool in the assessment and profiling of traits and temperaments of people in the workplace. He is a career counselor and a personality assessment expert.
Inspiring exceptional performance in the workforce of several organisations, he has handled several HR projects ranging from recruitment and selection to documentation of standard operating procedures (SOP), HR Policy development, creation of Training Policy and course modules for academies, workforce competency framework derivation, Job description & KPI development for hundreds of different job roles and team projects in Organisational development and Change Management.
As a practicing HR professional, he has managed the workforce of Samig Energy (now SEDGROUP) and also managed the workforce of over 1000 employees while working with CHISCO Group (an integrated Supply Chain and logistics company in Nigeria) where he rose to the position of an Acting Group Head, HR & Admin. He played a key role in the organisation's change management initiatives and spear-headed the 14 development of pay-by-performance reward structure for the entire Chisco Group and the development of Standard Operating Procedures for the different subsidiaries within the group.
Fredrick Okeagu is currently the Head of Human Resources and Admin, Cybernetics International Services Ltd.
He is married with three children and his hobbies include meditating, writing and presentation delivery.