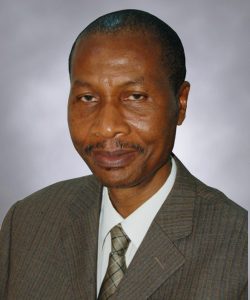 Mr. Christian Ikechukwu OBAH was employed as the Group Head, Internal Audit at Cybernetics International Services Limited, a company engaged in trading activities in the Energy, Oil and Gas Sector of Nigeria, majorly, downstream operations in March 2010. As Head of Audit, amongst other core Management functions, he has helped develop operational procedures and guidelines for the company. He has proven himself in this capacity through purposeful leadership and enterprise. His tenure with the company spanning from March 2010 to present date, has exposed him to the core components that make up an integrated oil and gas company.
A Fellow of the Institute of Chartered Accountants of Nigeria (ICAN), he started his career with Nigerian Ports Authority in 1980 in the Internal Audit Division. He was part of the core pioneer audit staff that set up the operational systems and internal control procedures in the then newly formed Container Terminal Port at Lilypond, Ijora, Lagos. He also served as Project Auditor on several Turn Key projects which included the Dry Dock Shipyard at Apapa dockyard. He acquired extensive hands – on experience of the Maritime sector whilst conducting programmed audit reviews of operational systems and accounting processes, leading to the increased overall efficiency of the organization's performance. His leadership qualities enabled him to successfully serve in various management committees which included that on the Design, Implementation and Review of a new Accounting System for this foremost government parastatal, transiting from manual to electronic.
He then moved on to AIICO Insurance Plc in 1992 where as Senior Manager (Finance), he was responsible for developing, implementing and managing some key financial/ operational policies. For the period of over eleven years which he spent with Aiico Insurance Plc, he was a key player in the Management team that constantly developed and implemented viable information systems, formulated policies and strategies for effective management of Change in the area of computerization of business systems/ processes, and branch office restructuring. His Tenure also witnessed the installation of a Local Area Networking facility for Head Office operations. During this time, he was directly responsible for preparing systems flow charts and documentations of financial sub systems, tests and review of transaction processes and ensuring successful interface is achieved with the existing computer systems.
Between January 2004 and February 2006, he had a stint in training consultancy with DTS Consultancy Services, where he featured as Resource person during structured training programs for employees of key Government Parastatals, and selected private sector organizations.
He next worked as Finance Manager of Multinational Craig Energy Services Limited, a company engaged in equipment procurement and engineering services in the Energy, Oil and Gas Sector of Nigeria. His position in the company, spanning from March 2006 to March 2010 enabled him to acquire practical knowledge of logistics and engineering project management in both upstream and downstream operations. As Finance Manager, he also developed and helped implement key financial guidelines and procedures for the company.
Mr. Obah is happily married.